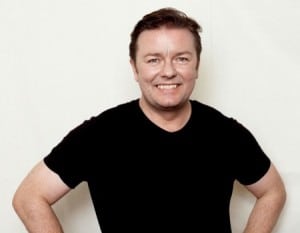 Ricky Gervais bit the hand that feeds once more as the Golden Globes host tore into celebrity targets at the annual awards do.
Invited back for a second year, the British funnyman clearly felt he had carte blanche to take the mickey out of his A-list audience, with Brad and Angelina, Charlie Sheen and Robert Downey Junior the butt of his most lacerating jokes.

And he left the crowd reeling as he made fun of the Church of Scientology while referring to the films that had not made the cut this year.
One of those was the Jim Carrey and Ewan McGregor film I Love You, Phillip Morris, featuring, as he put it, 'two heterosexual actors pretending to be gay. '
Gervais then added, 'Sort of the complete opposite of some famous Scientologists then'.
'Oooooooo,' went the audience, before Gervais added, 'My lawyers helped me with the wording of that joke.'
Alec Baldwin could be seen wiping a tear from his eye and Robert De Niro was in stitches of laughter.

Speaking backstage, Gervais rather narrowed down the identity of his target, wisecracking, 'I hope people didn't work out who it was.'
Nobody was spared by his scatter-gun approach. He kicked proceedings in much the way he would continue, by lampooning Charlie Sheen.
The hugely paid Two And A Half Men star has had a tumultuous year, firstly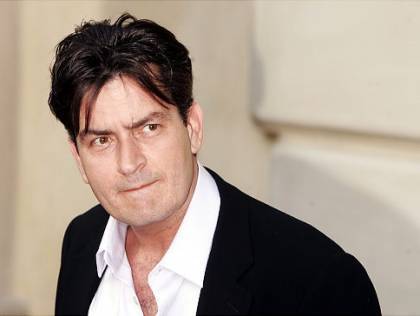 splitting from Denise Richards and recently spending time holed up in Las Vegas with a porn star, Bree Olson.

'It's going to be a night of partying and heavy drinking,' Gervais began his monologue, sipping from a glass of what looked like beer.
'Or, as Charlie Sheen calls it, breakfast.'
He then made a jibe at the expense of nominated film The Tourist, starring Angelina Jolie and Johnny Depp.

'I feel bad about that joke,' he said after his first dig. 'I'm jumping on the bandwagon, because I haven't even seen The Tourist, who has?'
He was just warming up. He went on to tell the audience that The Tourist had been nominated by the Hollywood Foreign Press Association just because its members wanted to hang out with the film's stars.
'That is not the only reason,' Gervais insisted with a saucy smile. 'They also accepted bribes.'
Gervais then dug into the Hollywood Foreign Press, who were the evening's hosts, for nominating Burlesque after being bribed with tickets to a Cher concert.
He added that it wasn't a halfway decent bribe anyway because no one has wanted to go to a Cher concert since 1975.
Gervais also took a dig at the stars of Sex & the City 2 and said, 'I was sure the Golden Globe for special effects would go to the team that airbrushed the Sex and the City 2 poster.
'Girls, we know how old you are. I saw one of you in an episode of Bonanza.'
Gervais had a little taste of his own medicine when he was snubbed by Steve Carell after he introduced the actor and comedian Tina Fey to the stage.
Gervais launched into a diatribe saying Carell, who brought The Office to the US, was 'ungrateful' for deciding to leave the show, but Carell got his own back by snubbing him when he went to shake his hand.
Carell shouted, 'I love it! Never gets old!'
Gervais then took on the Hollywood Foreign Press Association.
He announced that Eva Longoria would be on next with 'the daunting task' of introducing Philip Berk, the association's president.
'That's nothing,' Gervais added. 'I just had to help him off the toilet and pop his teeth in.'
Unlike everyone else, Berk was unamused.
Before offering his greetings to the audience, Berk, wearing a tight smile, said: 'Ricky, next time you want me to help you qualify your movie, go to another guy.'
'Oooooooooo,' went the audience again.
Toward the end of the Globes ceremony, presenters Tom Hanks and Tim Allen also got in on the Gervais bashing after The Office star introduced the Toy Story pair onto the stage.
He went into a lengthy list of all of Hanks's achievements and accolades over the years before adding: 'The other … is Tim Allen.'

Hanks said, 'We can recall back when Ricky Gervais was a slightly chubby but very kind comedian.'
And Allen added, 'Neither of which he is now.'
Downey Jnr also had a sense of humour bypass when Gervais introduced him on to the stage with a list of the his many film credits.
But then he said, 'But many of you in this room probably know him best from such facilities as the Betty Ford Clinic and Los Angeles County Jail.'
Sauntering on stage, Downey took a little bow, then quipped, 'Aside from the fact that it's been hugely mean-spirited, with mildly sinister undertones, I'd say the vibe of the show is pretty good so far, wouldn't you?'
And speaking backstage after the show, he added, 'I think it's great to be funny, but it's just better if you can do it without hurting people.'
Halfway through the ceremony, however, Gervais disappeared for nearly an hour, prompting speculation and gossip that he had been fired.
He did return but was noticeably more subdued which led to Piers Morgan wanting to ask him, 'What the hell did they do to you backstage?'
The American media was pretty swift in their condemnation. The New York Times predicted, 'It was Mr Gervais's second chance to host the Golden Globes…he may not get a third.'
While the New York Daily News said, 'Gervais never recovered from a bad start that featured a string of Charlie Sheen jokes.
'Those jokes might have seemed just slightly redundant and dated if the audience hadn't also clearly found them tasteless bordering on nasty.
'Gervais has always worked that high wire between naughty and unpleasant, of course, and here's the difference…the former feels like good fun, and the latter feels uncomfortable. Sunday night was uncomfortable.'
But not everyone took offence to Gervais's wisecracks and at one point, Alec Baldwin was seen wiping a tear from his eye as he laughed along from the audience.
Rapper and actor Sean 'Diddy' Combs, said he was 'really enjoying it' and said Gervais was 'doing an excellent job'.
Bruce Willis didn't agree. He walked on to stage and said pointedly, 'Some people get very lucky in Hollywood, don't they Ricky', although backstage he admitted, 'He was fantastic, he killed it, he did great.'
Rising British actor Andrew Garfield admitted it had been a cringe-worthy performance, 'He's been terribly nasty and horribly rude and I think he's genius.'
Christian Bale said he didn't feel Gervais pushed the envelope enough and added, 'Thank God for comedians, they have the most important job. I hope he keeps going further!'

De Niro was also seen dissolving into laughter but he too had made his own little jibes about the event as he collected the Cecil B. DeMille Lifetime Achievement Award.
Hitting out at the Hollywood Foreign Press Association, Homeland Security, 3-D and even his own recent movie, he said, 'I was very, very moved and gratified when you made the announcement of this award two months ago.
'Well before you had a chance to review Little Fockers. These movies … are like my children.

'Except that my children are more expensive and you can't remake them in 3-D to push up the grosses.'
As for Gervais, he might have divided the audience at the Beverly Hilton and across the world but the question remains, will he be asked to return next year?
by Milo Johnson