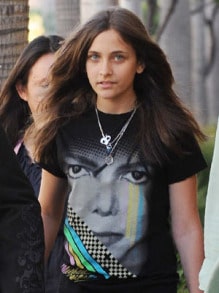 Paris Jackson keeps dad Michael Jackson close to her heart, by wearing a T-shirt emblazoned with his image during a shopping trip.
The youngster, who has recently turned 13, was shopping in downtown Los Angeles with brothers Prince, 14, and Blanket, 9, and Aunt La Toya, 54.
The identity of their biological father has always been a mystery, but none of them show any resemblance to Jacko.
At his 2009 memorial service, grieving Paris famously said, "Daddy has been the best father you could ever imagine."
And Paris wearing the T-shirt with Daddy on it just confirms what she thinks of him. And, do you know what…it doesn't matter who their biological father is or was.
Because anyone can be a father…but it not anyone can be a dad. Looks like Jacko was a great dad who loved his kids enormously.
by Debbie Dot