A Kings Cross stripper has come forward claiming to have had a spicy night with self-titled "horny" couple Mel B and her husband Stephen Belafonte last weekend, saying they invited her back to their hotel room … and she accepted.
The table dancer, who asked not to be named, said the raunchy reality TV star and mother of two and her partner Stephen Belafonte had their personal security guard proposition her during their night out on the Golden Mile on Saturday.
"It was just one of those things I felt I should do because something like that might never happen again," she said.
"I know that sounds kind of wrong. I wasn't going to… but they got one of their bodyguards to come up to me and ask me. So I did."
The stripper maintained she was not paid for the evening, or early morning, and that everything was "consensual".
"It was nice. We had a nice time," she said.
She left the room early in the morning before the openly bisexual former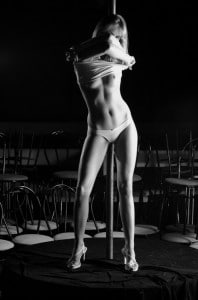 Spice Girl – who has declared she uses sex as a main source of exercise and "needs it" before getting out of bed in the morning, and film producer Belafonte had woken.
Mel B, who was travelling Down Under without her children Pheonix, 11, and Angel, 3, is no stranger to speaking about sex.
Having sex five times a day, using toys, crediting the key to her marriage as "sex and therapy" – nothing is off limits to this minx and her man, both 35.
"We're a pretty horny couple. We're young, we both like sex," she said last month.
"I've always liked sex and I'm going to make the most of it."
"I've got to have sex before I get out of bed, that's mandatory in my bedroom!"
The couple left Sydney on Tuesday morning for their London home.
Calls for comment on the wild night were not returned.