Get ready to see Marisa Miller's big-time acting debut!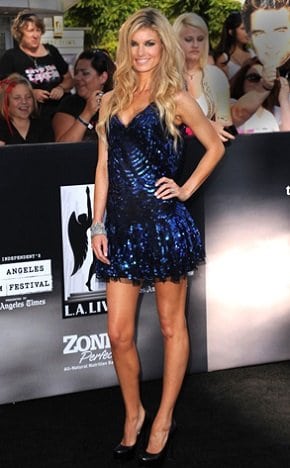 The beautiful Victoria's Secret angel is taking her talents from the catwalk to the big screen with her upcoming film R.I.P.D, which costars Jeff Bridges and Ryan Reynolds and hits theaters this Friday.
"It's so exciting, and for my first film to be a part of such an amazing cast is such an honor," she said
So what role does Miller play in the funny crime flick?
"R.I.P.D stands for the Rest in Peace Department, so Jeff Bridges and Ryan Reynolds are cops of the underworld and when they come to earth fighting these bad guys, they're dead, so people on the street would see me—I'm Jeff Bridges' disguise—and Ryan Reynolds has his disguise who is Grandpa Chen [James Hong]. So the visual of us two together…a lot of the comedy plays out within that," she explains.
The blond bombshell even did her own stunts!
"Originally the stunt where I get hit by the bus, it was really dangerous and they were gonna have a stunt woman do it but the shot was really tight and they asked me to do it," Miller said.
"I'm pretty athletic, and I was actually really excited that they asked me to do it because it was one of the best memories I had of shooting and it was really intense and hard but it was really funny."
That's a better reaction than Reynolds almost barfing during his stunts.
Speaking of the actor, Marisa shared that his charismatic attitude while shooting definitely helped lighten the mood for what she anticipated would be a nerve-wrecking experience.
"He is so funny, naturally. And that was so great about being on set with him. I mean, me working for the first time on set with Kevin Bacon, Jeff Bridges, Ryan Reynolds—I mean, this is an all-star cast so I thought I was gonna be really nervous and intimidated but having someone like Ryan make you laugh was just the best."