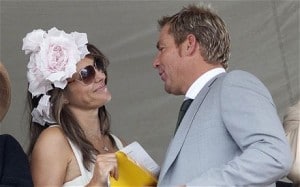 It seems relations might have thawed between Liz Hurley and Shane Warne, after the pair started flirting again on Twitter yesterday.
Perhaps the 45-year-old model's New Year's resolution is to let bygones be bygones after reports Warne had been sending saucy texts to millionaire's wife Adele Angeleri at the same time.
Yesterday, Warne initiated a conversation with mother-of-one Hurley when he asked her if she had any resolutions for 2011.
Hurley responded, 'Lots of them and they all begin with Start or Stop…'
When Warne questioned what she meant, Hurley tweeted him, 'You're being blonde…as in Stop eating sweeties and Start doing sit ups xx'
Warne, 41, then replied, 'Enjoy rabbit food me – not !!!!! Enjoy NYE with Damian…' before Hurley tweeted back, 'I didn't mean u to stop eating sweeties & do sit ups, they're my resolutions. I know you're a salad eating gym bunny by nature xx'
Father-of-three Warne then told his fans he was suffering slightly after drinking too much, tweeting, 'Goodnight all…. To many vodka's beer and red wine… Can't wait to wake up !!! Ouch ….'
He later added, 'Berrocca – check ! Suncream – check ! Towel – check ! Water 4 mouth that feels like the bottom of a budgie cage – check ! Hangover – check.'
The flirty banter suggests things are back on track with Warne and Hurley, whose relationship was revealed through their conversations on Twitter after photographs emerged of them kissing.
But, after more revelations that Warne had sent Angeleri 100 texts while tweeting Hurley, the sportsman took to his Twitter page to set the record straight.
He wrote, 'The journey of life is about riding the ups/downs. We all are childish, immature at times. It's about how you bounce back when things are tough.
'In life, everyone is happy to judge your actions then comment, sure everyone's entitled to their opinion. But their opinion is not always right.'
And now that Hurley appears to be enjoying Warne's company once more, the cricketer is said to be hoping their relationship can get back on track.
A source close to Warne said, 'Shane has feelings for Liz and they got on fantastically well when they were together.
'He really hopes he can see her again this week and patch things up.'
Warne and Hurley's relationship first came to light in early December, prompting the model to announce the end of her marriage to Arun Nayar.
by Robbo Green