He suffered the heartbreak of losing his beloved wife Natasha Richardson two years ago – but Schindler's List and Taken star Liam Neeson appears to have found happiness again as he holidays in the south of France with girlfriend Freya St Johnston.
The pair appeared very much in love yesterday as they strolled at Club 55, a chic and bohemian beach club and restaurant which is a favourite with the likes of U2 frontman Bono and Jack Nicholson.
As 59-year-old Liam tenderly draped his arm around her neck and clasped her shoulder, Freya looked pretty as a picture in her floral halter-necked floor-length maxi-dress.
The PR girl's cool summertime look was completed with big brown sunglasses and with her blonde hair tied back leaving a few tendrils to fall down her cheeks.
Star Wars actor Liam meanwhile looked relaxed and happy in a white loose-fitting shirt and grey cotton slacks with deck shoes.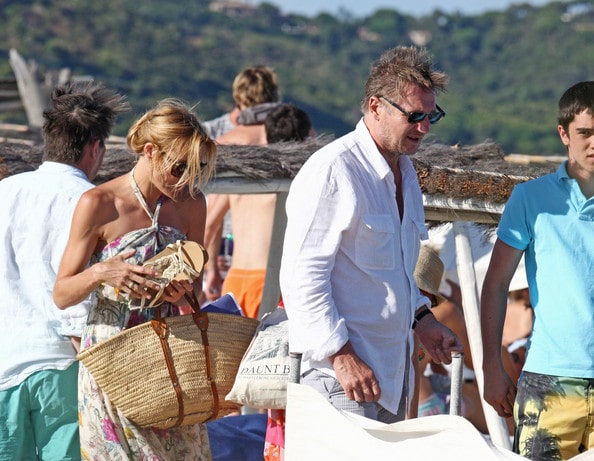 Clearly getting into the laid-back Mediterranean way of life, he'd also slacked on his shaving and was sporting trendy salt-and-pepper stubble as he laughed and joked with friends at the club.
The couple have been dating since last September after meeting apparently through mutual friends in the film world and have been enjoying peak daytime temperatures of 27° at the French resort.
At one point, the pair shared indulgent smiles as they ruffled the hair of a young boy in their party on the beach.
Liam is currently taking a break from filming before apparently going back on set for the latest Batman movie the Dark Knight Rises, set to be a summer blockbuster next year and which he's rumoured to be starring in.
He's also just finished filming a clutch of movies including The Grey, an action thriller which comes out in January, Clash Of The Titans 2, which comes out in March next year and sci-fi Battleship, which hits cinemas in May 2012.
Liam's marriage to late wife Natasha was regarded as one of the strongest in show-business.
They married in 1994 and were together until her death aged 45 in March 2009, when she had a massive brain hemorrhage hours after falling on a Canadian ski slope.
They have two sons, Michael, 16, and Daniel, 15.
by Lorelle Heath