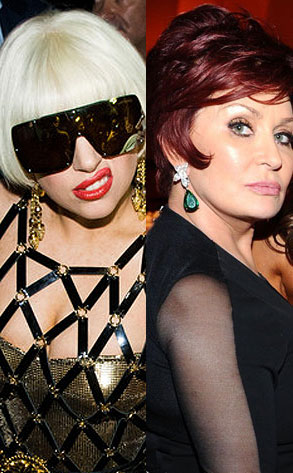 Sharon Osbourne has stepped into the feud that is now going on between Lady Gaga and her daughter, by calling Gaga, 'a bully'.
Ozzy's missus hit out after Gaga attacked Kelly Osbourne commented on her US fashion TV show.
The Poker Face star penned a blog post on her official site urging Kelly to "take responsibility and accountability" for her bitchy remarks, saying it was astounding how she had now become "a beautiful slender woman who makes fun of others for a living."
She said: "Your work… with the Fashion Police is rooted in criticism, judgment, and rating people's beauty against one another. 'Appearance' is the most used reason for bullying in the world."
She was responding to Kelly's earlier claims that Gaga's fans were cyber bullying her over her weight.
Former America's Got Talent Judge Sharon, 60, raged on her official Facebook page: "Your open letter is hypocritical and full of contradictions. How sweet that you have empathy for my daughter, as you feel that she has taken a less passionate path in life.
"You say her work on…Fashion Police is 'rooted in criticism, judgment, and rating people's beauty against one another.' Welcome to the real world.
"Example, when I saw you wear a dress made out of raw meat, I was sickened. When I see you wearing fur, and using it as a fashion statement, the fact that defenseless animals have been killed so you can get your picture in the press is abhorrent to me. Shouldn't you be teaching your 'little monster' fans to respect animals and life?"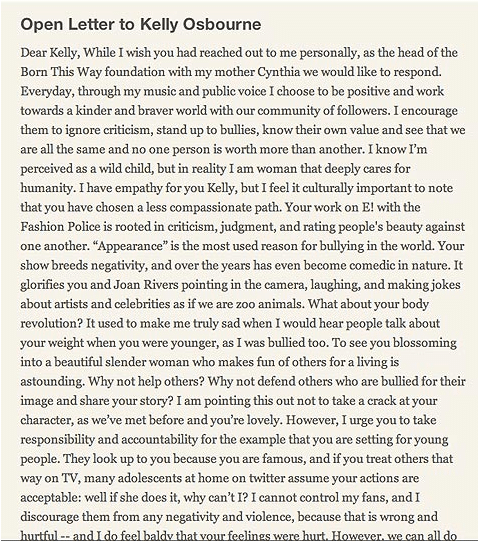 Sharon continued, "By your actions to Kelly right now, you have shown me that you are nothing more than a publicly seeking hypocrite and an attention seeker.
"You know it would have been much more dignified of you to do this privately. I am calling you a bully because you have 32 million followers hanging on your every word and you are criticizing Kelly in your open letter.
"A word from you would stop all the hideous, negative and vile threats from your 'little monsters.' Let me know if you want to continue this debate. I'm an open playing field for you my darling."
Kelly also had her say on the drama via her Twitter page, adding: "I hope you guys realize that I don't care about any of this bullshit! I know who I am I don't need anyone to tell me!…love to all."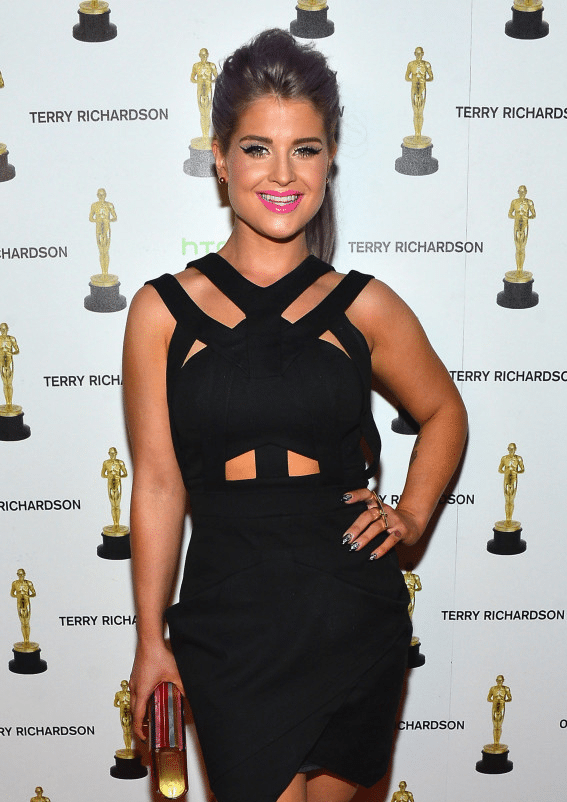 Another of the Osbourne clan took to Twitter to rage at a different pop-star yesterday as Jack's wife Lisa took a swipe at Taylor Swift over her split from One Direction's Harry Styles.
She wrote: "Either Taylor Swift is bat shit crazy & causes every guy to dump her, or she has too high standards for these poor guys! droppin' like flies.
"I usually find out when Taylor Swift breaks up with someone before I even knew they were dating. That's how fast these things happen."
But she later followed up her outburst by insisting she was a fan of the country babe.
by Lorelle Heath