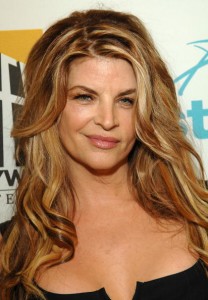 Cheers star Kirstie Alley has launched a scathing attack on Charlie Sheen telling him to get his act together.
The 60-year-old actress slammed the Two And A Half Men star telling him, 'you have two beautiful girls… PERHAPS for the sake of these children you can decide to QUIT hanging with PORN STARS & HOS'
The rant comes after Sheen reportedly spent the weekend holed up in a Las Vegas hotel suite with a number of adult actresses and glamour models.
Following the blast, which was re-tweeted by over 100 of her followers, a small proportion of her followers stuck up for the actor.
She posted, 'LOL…wow!…"% defending Porn Stars and Hos as acceptable choices for parents….ya GOTTA love our 1st amendment.. lord knows.. I DO!!'
The majority of her followers agreed with her and Kirstie concluded that, '98% of people think FATHERS shagging hookers and porn stars is unsavory.'
Sheen has two daughters Sam J and Lola Rose with his second wife Denise Richards, who divorced him in 2006.
He also has a 26-year-old daughter Cassandra from a previous relationship with Paula Profit.
The actor  has two boys with estranged wife Brooke Mueller, who he filed for divorce from in November.
After the Twitter rant, Kirstie posted to Denise, 'I got your babies backs… XX0X0.'
And it appeared that 39-year-old actress agreed with Kirstie and said, 'That would be a good start.'
Kirstie and Denise appeared in Drop Dead Gorgeous together in 1999 and
Sheen's ex-wife thanked her former co-star for her support.
But the controversy surrounding Sheen's personal life has meant his career has been called into question and his bosses have admitted they are concerned.
But the makers of hit sitcom Two And A Half Men have revealed they plan to stand by star Charlie Sheen, despite his high-profile troubles.
At the Television Critics Association press tour, CBS Entertainment President Nina Tassler told journalists, 'We have a high level of concern. How could we not?'
But she said that while the network was concerned for Sheen 'on a very basic human level' he was a 'professional' and his work was not suffering.
'On a personal level, obviously concern. He does his job, he does it well, the show's a hit, that's really all I have to say,' she said.
'But I have got to speak to him personally first. On a very basic human level…concern, of course. This man is a father, he's got children, he has a family, so there is concern on a personal level, but you can't look at it simplistically.'
She claimed there were no concerns about Sheen's standard of work.
And she rejected journalist's claims that CBS should fire Sheen for his behaviour off-set.
'He's going to work and doing his job,' she said. 'He wouldn't be fired for going to work and doing his job.'
The actor is understood to have spent the weekend holed up in a Las Vegas hotel suite in the company of several adult actresses, including his reputed new companion Bree Olson.
Sheen's wild weekend comes three months after he was briefly hospitalised following a debauched night in a New York hotel room.
by Harry Harper