Kate Winslet gleams as she makes an appearance on an Italian chat  show.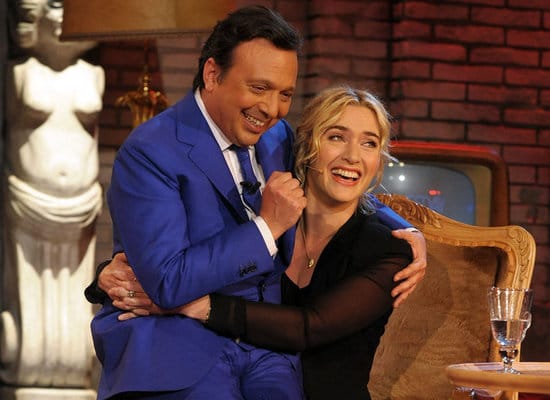 Decked out in a smart black suit, the British beauty looked immaculate filming  an interview for show Chiambretti Sunday in Milan.
Smiley Kate was in great spirits as she chatted about the release of her  classic movie Titanic in 3D.
But she admits she was flabbergasted when she saw herself in 3D for the first  time.
During her interview with host Piero Chiambretti, she said: "I was  literally like: 'Oh God, make it stop! Is that me?
"Oh my God, that's me. Block my ears, somebody! Somebody club out my  senses. Make it fucking stop!'"
However, Kate says she WILL share the film with her children, Mia and  Joe.
"It's very exciting that I can actually sit with them together and we can  all watch it in a movie theater. That is going to be quite amazing, actually."
by Helena Bryanlith