As Alexis, one of television's ultimate bitches, Joan Collins was used to the high life and nothing less.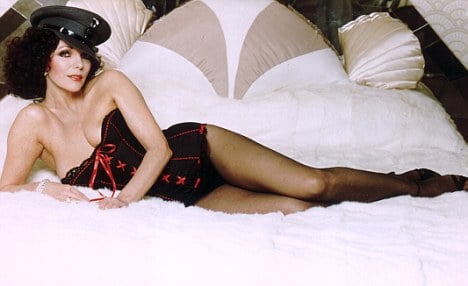 However, proving that even the world's top set are not untouchable the actress has been forced to sell one of her four homes because of the effects of the global financial crisis.
The 78-year-old actress has put her three-bedroom, three-bathroom Manhattan apartment on the market because she can "no longer afford to keep it".
The former Dynasty star, who also has homes in Los Angeles, London and the south of France, said, 'We always knew that there would probably come a time when either our LA home or this one would have to go and we have made the sad decision that it will be this place.
'Many people have said to us, "How on earth can you afford to keep four homes?" And the fact is, in this day and age, we can't.'

The three bedroom unit at the Dorchester in Manhattan boasts North, South and East exposures, herringbone oak floors, three baths, and a plethora of closet space. 
On the market for $2.895million, the luxury apartment also comes with a hefty monthly maintenance fee of $2,915.  
So it's hardly surprising that the actress is selling up, perhaps she'll pump the money she makes from the sale into her other three properties. 
Especially as her LA home was damaged by a flood last year.
In September the actress returned from a holiday at her St Tropez home to be greeted with terrible news – her Sierra Towers mansion in Los Angeles had flooded during maintenance.

A plumber had been sent to the actress's pad to check for leaks but he failed to turn off a tap before switching the water back on and flooded the entire property.

Despite a massive mop-up, much of her furnishings were beyond repair.
Elsewhere Collins has expressed her sympathy for Cheryl Cole, over her axe from US X Factor.
The former Dynasty star said Cheryl's struggle to win America over remind her of her own accent issues early in her career.

'I feel very sad for Cheryl Cole,' she said. 'I went to Hollywood when I was 21 and they wanted me to change my accent and said people didn't understand me.

'They gave me lessons and I got an American accent…now I'm in between. I think Cheryl is proud of her accent and if she changed it she would get a lot of flak.'

She added, 'When I came home my mother said 'What's happened to your voice? You talk in a funny way.'

I think Cheryl got a really bad deal as they knew she talked like that before.'
by Helena Bryanlith