Jackie Chan went to work on two of his biggest stunts (that's STUNTS) on Sunday.

The 58-year-old stunt man and actor was tasked with saving Yao Xingtong and her modesty after the Chinese actress stepped out in a sheer dress and no bra.

But Jackie rose to the challenge and gave Yao a stuffed bear to cover her chest.
Yao was dressed in a flowing lace dress, which boasted a sheer panel down the front, and no bra.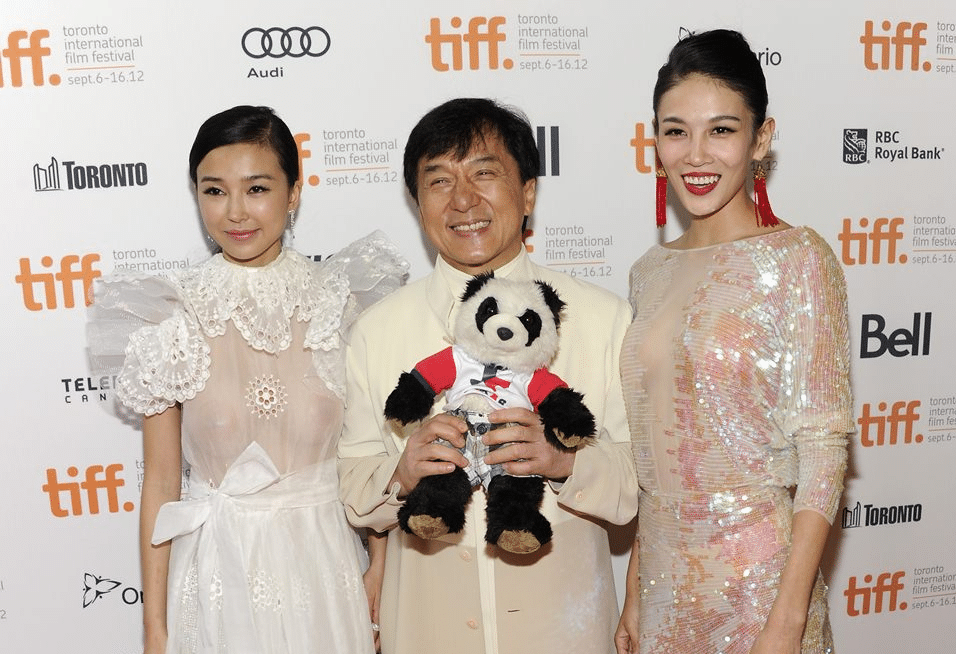 The dress, which also had puffy sleeves and broderie anglaise detail left her chest on show for all to see and there's little doubt that Jackie hadn't noticed her revealing outfit.

The pair were joined by Zhang Lanxin ahead of the event 'In Conversation With Jackie Chan' as part of the Toronto film festival.

Zhang had opted for something a little more sensible and modest and wore a shiny floor-length gown with sequins.
Jackie, who has appeared in more than 150 films was dressed in a simple cream and brown suit for the occasion.

The group brought stuffed pandas with them for the event and Yao covered her chest with the animal toy at one point.

Speaking at the event Jackie said: 'I think we need to have this summit, I hope that more westerners will come to China, more western producers, directors come to China, and collaborate on films. Films on Chinese subjects that can be introduced into foreign countries.
'I believe this will help the western society better understand the Chinese culture.'
by Harry Harper