She's a previous winner of Miss Wales and it's easy to see why. Imogen Thomas used all of her feminine charm to strike several seductive poses during a photoshoot for her 2012 calendar in Marbella, Spain.
In two different bikinis Imogen showcased the fantastic physique she has acquired through dedicating hours to visiting the gym.
As she strutted her stuff around the swimming pool at an exclusive villa in the Marbella Hills it was clearly evident that all her hard work had paid off.

The model's lean, toned body was perfectly complimented by her skimpy swimwear as photographer Carly Jo Harlow snapped away.
In one shot she leaned against the side of the pool, accentuating cleavage for the camera.

Later in the shoot, she removed her bikini top, although it's not clear whether she went completely topless for the sensual shot or whether she left it to the imagination of her fans by covering herself up in what's known as 'implied topless'.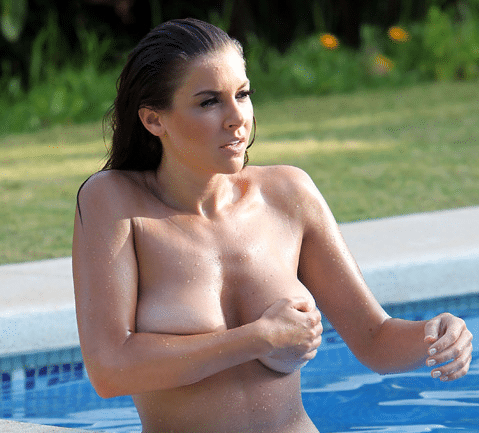 While she also paraded around the pool in an all-white ensemble, soaking up the Spanish sun. 
A source said, 'Imogen loved shooting the calendar and can't wait for her fans to see her new and improved figure. She's been spending hours in the boxing gym and at yoga to clear her head and it's paid off more than just mentally.'
Yesterday, Imogen was pictured laying on a sunbed at the Buddha Beach Bar in the resort, where she spent just day filming scenes for British morning TV show.
She was seen checking her make-up, adjusting her bikini top and clutching onto a dialogue card as she prepared to film for the daytime television programme.

Sporting a rather high quiff and a pair of aviators, Imogen looked at ease as she laughed with crew members and looked at photographs on a digital camera.
She was accompanied by The Only Way Is Essex star Harry Derbridge, who is a regular in the Spanish resort.
Imogen has been updating her followers on Twitter about how Bikram yoga has been changing her figure.

Posting pictures of herself in her underwear, Imogen tweeted, 'I'm gonna post some photos to show u what bikram yoga does to your body.'
Bikram Yoga is similar to traditional yoga techniques but sessions last for 90 minutes in a heated room of 40.6 degrees Celsius.

It is claimed to facilitate deeper stretching and prevent injury, while reducing stress and tension.

And Imogen is finding that it's doing her abdominal muscles wonders after becoming a huge fan.

She has also been spotted this summer roller skating to workout her thighs, in-between her modelling and presenting gigs.
by Harry Harper