Gary Oldman is one of the best and most respected actors of his generation.
But despite starring in the biggest film franchise of all time- Harry Potter- as Sirius Black, and sundry other iconic roles, he shuns celebrity.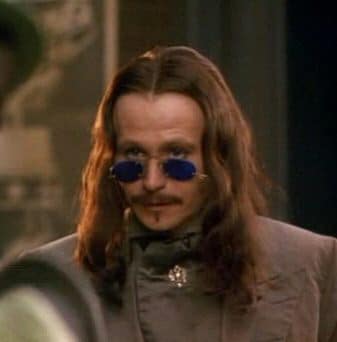 In a revealing new interview, the actor explains why he prefers to keep himself to himself, and admits he believes that his sister is more likely to get recognised in the street than he is.
Guess who? Gary Oldman is one of the finest actors of his generation, yet in his latest interview with Esquire magazine he explains why he thinks his sister is recognised more in the street.
The 53-year-old stars alongside Colin Firth in the new film adaptation of John Le Carre's Tinker, Tailor, Soldier, Spy, directed by Tomas Alfredson.
'I know the scene, I know the lines and I turn up on time. I show up having done the work. That's who I am anyway.'
In Tinker, Tailor, Soldier, Spy Gary plays Smiley, a taciturn intelligence expert forced out of retirement to tack down a Soviet mole in the Secret Service.
On the role first made famous by Sir Alec Guinness, Gary said, 'We're as different as chalk and cheese, but I'm still playing Smiley, same text, pretty much. That was in the back of my head a bit, the ghost of Sir Alec, knowing that you're not going to completely reinterpret.' 
On the subject of his celebrity status, Gary revealed, 'I've never really courted it. I still don't have a publicist. If I'm in a film, you have
an obligation to promote it, I'll do as much as I can.'
Asked whether his sister Maureen (now known as Laila Morse) who plays Big Mo in EastEnders would get more attention in the street, Gary confessed, 'I would think Maureen would. It's weird it comes in waves.'
'Overall I enjoy a certain anonymity. I live a very normal, very ordinary life.'
His retiring attitude carries through to his work. 'On set I keep myself to myself; I'd rather the director speak up. I'm not gonna direct a younger actor. I think the power of example works best, actually,' he explained.
This displays some considerable modesty, considering Gary
directed, produced, and wrote the award-winning 1997 Nil By Mouth about his own childhood.
Nevertheless, the actor has retained his desire to direct, and having met Colin Firth for the first time on the set of Tinker, Tailor, Soldier, Spy plans to make a new film with the Oscar winner.
'I think I'm gonna do something with Colin Firth. It was something I'd been thinking about for a while, I can't say what it is, but it's a remake, and when I worked with Colin I thought: here's the guy to do it with,' Gary revealed.
'We take it back…there's no gizmos, no gadgets. It's anti-Bourne, anti-Bond.'
Gary seems to relish in the more organic nature of acting in a film without spceial effects.
'It's just you in a room, and that was the canvas. Tomas Alfredson would come in with a camera, and you would decide: is it a scene about a man in a room or is it a scene about a room with a man in? So you feel exposed,' he mused.
by Helena Bryanlith