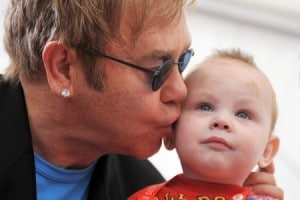 At the age of almost 64, fatherhood has come late to Sir Elton John, but he is enjoying making up for lost time.
His delight in parental duties was evident as he and partner David Furnish enjoyed their first beach holiday with eight-week-old Zachary Jackson Levon Furnish-John.
The couple are in Hawaii, where the legendary performer will play two concerts this week.
Sir Elton, who will be called Daddy, and 48-year-old Furnish, who will be called Papa, became parents through a surrogate mother on Christmas Day.

Last week Sir Elton, who is worth around $300 million, told how he wants Zachary to have 'a solid old-fashioned childhood'.
He added, 'I so value my own childhood now, and  the sense of wonder and personal discovery that I enjoyed, that we want to give Zachary, as much as we possibly can, the same thing.'
Sir Elton, who once spent $400,000 on flowers in a 20-month period, went on, 'I know it'll be hard with my life, but we want him to have that same normality and for things in life to have real value.
'So we don't intend to spoil him, we're going to try to give him a fun, carefree time of innocence, freedom, love and stability.'
And in an interview with the Today show earlier this month, he said he was going to enjoy the challenge of bringing up Zachary.

He said, 'I thought, "You know what? I'm going to try it. I'm sure as much as I can give him, he's going to give me a thousand-fold back. Already, in seven weeks he's done that.'
by Milo Johnson