Coco is famous for having more than an ample curves and she has certainly taken part in more than her fair share of racy photoshoots.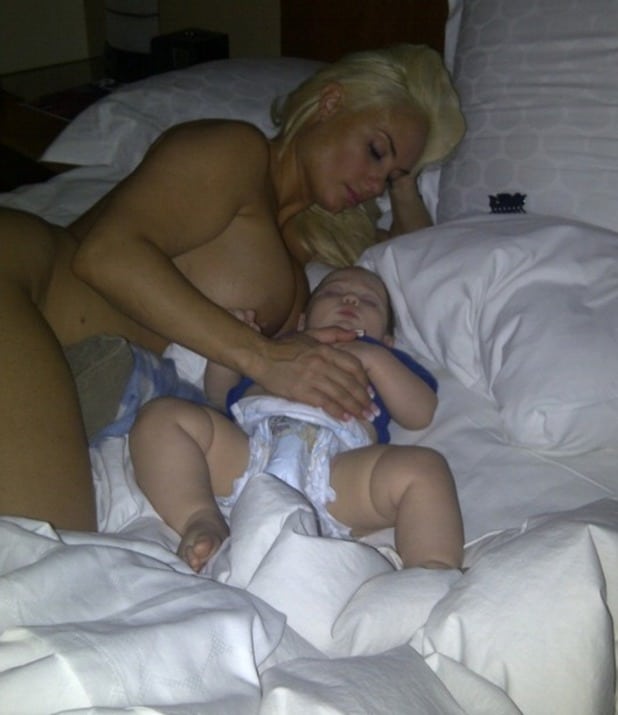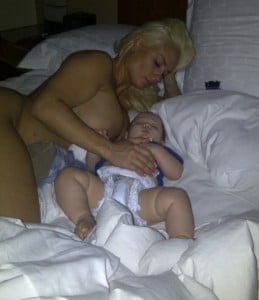 Having made a living from posing in bikinis and showing off her cleavage, the 32-year-old, who is married to rapper-turned-actor Ice-T, is a dab hand at working it for the camera.
However, a recent photograph that she posted online may split public opinion and will be sure to start a debate on exactly what is acceptable.
Coco recently uploaded a photograph in which she can be seen lying apparently naked on a bed with her sister's baby son sleeping next to her.
The photograph shows the glamour model with one hand on her nephews chest and her other hand propping up her head as she struggles to keep her eyes open.
The blonde bombshell obviously shares a close relationship with her relative but some people have been outraged by the photo and have said it is inappropriate for her to pose naked with him.
Coco, real name Nicole Natalie Marrow, removed the picture from her Twitter page shortly after posting it up.
Coco has been feeling broody lately and in the upcoming second series of her reality show, Ice Loves Coco, she believes she has fallen pregnant after noticing changes in her body.
But while a trip to the doctor reveals that the curvaceous reality TV star has genetically high blood pressure, and not a baby,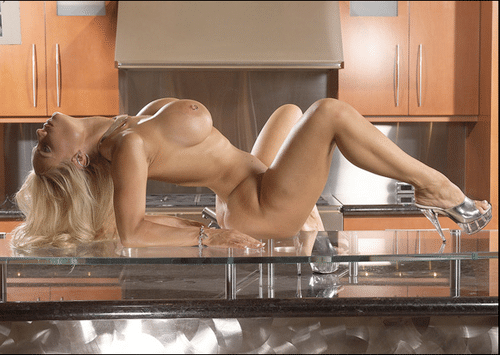 it seems that her maternal instincts are still running strong.
She was seen doting over her sister's son again earlier this week as the pair enjoyed lunch in West Hollywood.
While Coco's revealing attire was anything but mumsy, as she poured her curves into a tiny red dress, she was seen cooing over 'baby Austin' and couldn't resist enjoying several kisses and cuddles.
The star happily posed for snaps as she soaked up the family time, while her tight scarlet dress hugged her every curve and emphasised her generous derriere.
Coco teamed the revealing ensemble with a pair of leopard print Christian Louboutin heels.
The reality star visited the TV show The Doctors where it appears she had her bottom examined.
She posted a snap sat in a chair on the set of the show with the caption: 'About to get my butt examined on 'The Doctors' finally the truth will be revealed…watch for the results Feb 20.'
Coco claims that her curves are God-given rather than genetically enhanced, although many fans have voiced their doubts over whether she is telling the truth.
The couple are currently gearing up for the second series of their hit reality show.
In the new season the pair take off to exotic locations and share a trailer when Coco makes an appearance on Ice's hit show Law and Order: SVU.
But despite travelling together, due to their demanding careers, the couple also face spending time apart for their first time in their marriage.
The second series of the couple's hit reality show Ice-T Loves Coco will air on U.S. network E! on February 19.
by Harry Harper