She has grown up in a life full of wealth, luxury and has been able to have everything her heart desires at the snap of her fingers.

So it's of no surprise that Petra Ecclestone's wedding will be as lavish as her lifestyle.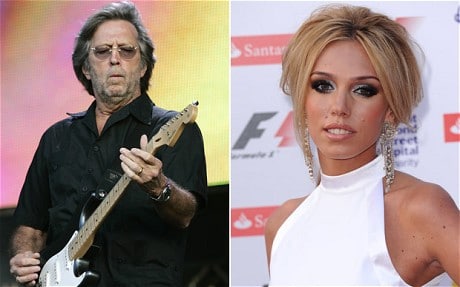 The F1 heiress is set to walk down the aisle with businessman fiancé James Stunt in Italy next week and her father Bernie Ecclestone is believed to have splashed out $2million on giving Petra her dream wedding.
The wedding will take place at the 15th century Odescalchi Castle, where Tom Cruise married Katie Holmes, just
outside of Rome.
Petra's sister, Tamara Ecclestone, 27, will be maid of honour and 5ft 4in Bernie who is worth $4billion and divorced the girls' Croatian mother Slavia in March 2009, will give his youngest away.
The three-day celebration is sure to be the talking point among high society, especially the reception where Bernie, 80, has really splashed out.
Eric Clapton, who rarely plays live any more but is a good friend of Bernie's and is believed to be getting a $400,000 fee, will perform the first song as the newlyweds take to the floor for their first dance as a married couple.
And then the Black Eyed Peas will perform a set for guests at the reception, at a reported cost of $1,000,000.
Renting the Italian castle costs $500,000 which includes catering guests accommodation, and $65,000 will be splashed out on a spectacular fireworks display at midnight. 
A guest said, 'Petra is Bernie's little girl. He'll do anything to make her happy and she wants a wedding to leave her society chums green with envy.
'After Rihanna performed at the engagement bash, it was a tough ask to trump that. But Petra had her heart set on Fergie and the Black Eyed Peas and used her connections.
'Eric rarely gives public performances but is a close friend of Bernie's. He'll be singing as the bride and groom take their first dance. It will be a magical evening.'
Petra and Stunt have signed a pre-nuptial agreement ahead of their wedding after he insisted on having the 'his and her' pre-nuptial agreement drawn up.
Friends say he wants the marriage to start on an equal footing and he is keen for Petra to hold on to her assets…and him to his…should they ever separate.
Petra said 'James suggested we organise this. Neither my father or mother had anything to do with it.
'We think it's a sensible decision. In fact, we have signed agreements to protect both my and his assets. This is, though, the last thing on our minds as we prepare for our wedding.'
by Lorelle Heath