Every Star Wars fan worth their salt knows only too well from C3PO's warning, that it's 'not wise' to upset a Wookiee.
But clearly it's advice that Chewbacca's former co-pilot Han Solo wasn't worried about following as he launched into a verbal attack on his old friend…and for good reason.
Actor Harrison Ford, who played the Millennium Falcon's pilot, didn't look too happy to see the Wookiee as they were reunited on TV last night.
Despite fighting battles side-by-side against the Galactic Empire a long time ago in a galaxy far far away, their friendship came to an abrupt end once the bad guys were defeated and the cameras stopped rolling…because Chewie slept with his wife.
Ford, 69, was seen getting his hair and make-up done before a guest appearance on TV chat show Jimmy Kimmel when there's a knock at the door and Chewbacca walks in to say hello to his old friend.
But his appearance does not go down well with Ford who stomps over to the Wookie and launches into an angry verbal attack on his former sidekick.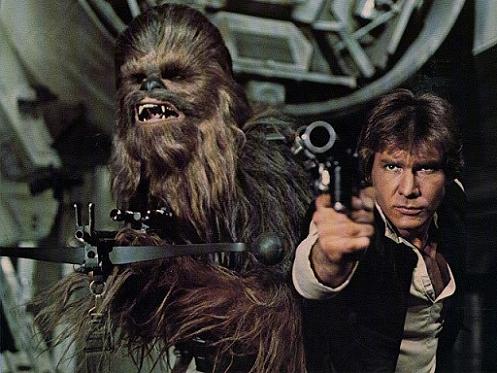 He snaps, 'What are you doing here, you son of a bitch? Cut the shit, you think you can walk in here and say you're sorry after what you did?'
As Chewie growls his protests, Ford continues, 'I'm done with that Star Wars crap and I'm done with you. I'm in Cowboys & Aliens. Daniel Craig's my Wookiee bitch now.'
He then shouts, 'Out. Get out!' as he shoves the sorry Wookiee out the door.
He screams after him, 'She was my wife! She's still spitting up hairballs!'
Of course, before Star Wars fans clutch their chests in horror that two old friends have become enemies, it was a sketch done in jest for the Jimmy Kimmel Show.
Ford was a guest on the show to promote his new movie Cowboys and Aliens and thought he would have a bit of fun while he was there.
Ford starred alongside the 'walking carpet'…who was played by Peter Mayhew, who was a hospital porter in Mayday Hospital in Croydon, England (not in the sketch)…in the films, from Star Wars; A New Hope in 1977 to Return of the Jedi in 1983.
They have become movie legends and the idols of many a small boy as they put the Falcon into hyperdrive and flew the galaxy at light speed.
Ford is currently starring alongside Daniel Craig in Cowboys and Aliens, a western with an extraterrestrial twist, which is released in the UK on August 17.
by Helena Bryanlith