Former Baywatch babe, dancer, singer, model, movie actress and Playboy magazine favourite Carmen Electra, is dating music mogul Simon Cowell.
She talked candidly in a recent interview about growing up. Here's what she said:
"I wish at 18 I had understood that in order to heal you have to feel.
The key turning point in my life was losing my mother and my big sister within two weeks of each other. That was in 1998, when I was 26.
My mom Patricia had a brain tumour and my sister Debbie had a heart attack in her sleep at the age of just 40.
It was too painful to even think about, let alone talk about.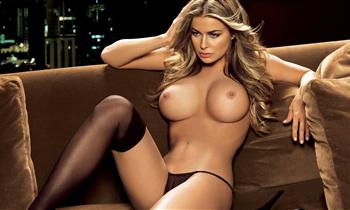 I had girlfriends who were really nice and practically moved in with me to help. If I started thinking about my mom being ill, I would freak out. I did not know what to do. I wanted to make it better, but when she was in treatment I ran away from it.
Later, I started a charity for brain tumour survivors called Head For Hollywood. I talked to other people who had suffered a sudden loss.
We all say the same thing…that we were afraid to get tested because it was so terrible to watch a family member go through that.
For years, I avoided a check-up. But I eventually did and I am healthy. I went through so many different emotions. I learned that when you let yourself feel something, you get over it easier.
At 18, I was very innocent. It was the year I moved to Hollywood and I was shocked at what was going on around me. I wish I had known how important it is to have communication and vulnerability.
I had been brought up with macho guys. All my four older brothers were karate black belts. A lot of guys do not want to show they are vulnerable because they regard it as weakness. So I ignored that for a time. I was foolish.
I was brought up in a small-town atmosphere and worked as a dancer at an Ohio amusement park under my real name of Tara Patrick.
I moved from home to New York for a short time…with no work…and then met a girl who was from Los Angeles.
We went to LA and she let me stay in her house while I looked for work.
I started dancing in a club and within weeks was seen by a scout for the pop star Prince, who then signed me up to record an album. That was when I changed my name to Carmen Electra.
I wanted to have the opportunity to improve myself. I think if you really want it, things can happen.
I learned that whatever you dream up in your mind may eventually come true…though I originally wanted to be a dancer on Broadway in New York.
As you have the drive and desire, you can create the life that you want.
But at 18 I was attracted to bad boys. I watched what went on around me in Hollywood and wanted to learn.
Am I still interested in a guy's body? Now I have grown up, I am much more of a "vibe" kind of person! If a man has a good body, that is an added plus. But I do not think it is the most important.
A big turn-on to me is a guy who can have any girl he wants but says no. He has self-control. Not the guy with all the chicks who is insecure.
I want someone who can keep me on my toes, has a good sense of humour and a good heart.
I love a man who has lived a full life and lived on the edge.
I have learned to look at the world through a child's eyes…being curious."
Well, wasn't that interesting…although, wasn't really reading, just looking at the picture…
by Harry Harper