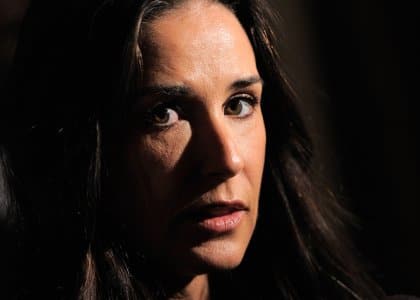 Ashton Kutcher visited Demi Moore yesterday and just hours later the Charlie's Angels star's other ex husband was also spotted checking in on her.
Bruce Willis visited the LA home the actress shares with their three daughters Rumer, 23, Scout, 20, and Tallulah, 17.
The actor is said to have pleaded with Demi to seek help before she announced she was divorcing Ashton in November, but his advice fell on deaf ears, it has been reported.
A source said: 'He was worried about her and wanted her to get better. Many of her friends did the same thing, but she just wouldn't listen,' it was reported. 
Demi is recovering from her recent collapse and her girls are understood to be in struggling in the wake of their mother's
dramatic downward spiral.
The 49-year-old, who was barely eating, partying and struggling with insecurities, has particularly been leaning on her eldest daughter for comfort and companionship in recent months.
The Die Hard actor looked concerned as he pulled into the property in his black SUV.
Bruce, who is expecting another child with his new wife Emma Hemming, has stayed on good terms with Demi since their split in 2000.
In fact, he regularly joined the actress and Ashton at red carpet events and on family holidays.
Meanwhile, it has emerged that Demi is feeling 'despondent' about her acting career.
She is reportedly 'very, very unhappy' about the path her acting career has taken in the last 18 months and it is thought she has tried to increase her chances of landing a hit movie role by spending time with Rumer and her friends. 
A source close to the actress…who has starred in Ghost, Indecent Proposal, Striptease and Charlie's Angels, said:  'Demi is despondent because she feels that her career has stalled. It's been a very long time since Demi was the marquee star that would open a movie.
'One of the reasons that Demi is obsessed with being young is that she feels if she is seen out with her daughter and Rumer's friends that might help increase her chances of being offered a role that might go to a younger actress.'
The brunette…who split from Kutcher in November amid speculation he had cheated on her…finished filming her latest movie LOL last year, but insiders believe she doesn't have 'any future projects lined up'.
Following her hospitalization last week, Demi opted to pull out of starring as feminist Gloria Steinem in 'Lovelace' – a movie about real-life porn actress Linda Lovelace – and she has since been replaced by Sarah Jessica Parker.
It has also been claimed that Demi has refused to enter rehab, despite being urged by daughters to seek help after she suffered a seizure.
by Helena Bryanlith