BRITNEY SPEARS' ex-bodyguard last night claimed he was summoned to her bedroom – to find her writhing naked on the bed and lewdly caressing herself.
Fernando Flores said the bizarre encounter was one of the many times the fallen idol made his life hell by hounding him for sex.
And the ex-cop insisted the clumsy seduction attempts were just one aspect of the sordid reality of life with a superstar who craves prescription drugs and batters her staff and boyfriend JASON TRAWICK.
He said: "Britney was a nightmare to work for. All the security guards lived in fear of her. And she seemed to see me as just a sex plaything."
Fernando, 29, said he was warned when he landed the job at Britney's California mansion that she would make a play for him. He claimed within weeks the singer made it clear she wanted to bed him.
He said: "The routine was always the same. She'd call security and tell me to be in her room in 15 minutes and not to be late.
"When I got there she'd be naked. One time I walked in and she seemed to be pleasuring herself on the bed. She was running her hands over her body and had this look on her face like she was possessed.
"I think she thought I'd be sexually aroused and would do something with her. But I walked out. She hit on me and exposed herself more times than I can remember.
"I told my superiors about my concerns but they never took me seriously. In the end I had no choice but to quit."
Fernando, married with two children, this week launched a £10million sexual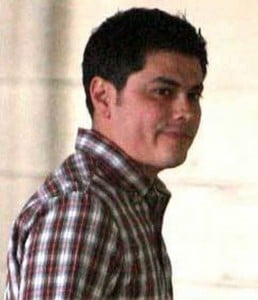 harassment lawsuit against Britney, 28. He claims her unwanted attentions forced him out after just four months as a bodyguard.
And he insists Britney had managed to seduce other male staff in the past – one of whom may now also sue for sexual harassment.
Fernando added: "I was warned on my first day on the job that I should be careful, that she might find me attractive. But I had no idea how bad it would get.
"Her main security guard, an ex-Israeli army guy, took me aside and told me, 'Fernando, I need to give you advice. You need to be careful because she is going to find you attractive.'
"He said there was more than one guy this had happened to.
"And he said if that happened to me I'd never work as a bodyguard in Hollywood again.
"I was scared because it was only my first day and I didn't want to lose my job. I have a wife and two young kids to support."
Fernando, of Anaheim, California, claimed: "I am not the first employee she has done this to and I probably will not be the last.
"I've been told at least one other former security guard is now willing to come forward and tell how she sexually harassed him too.
"It was common knowledge when I was working for her that one of her dancers got fired because she started having sex with him.
"This guy was seduced by Britney and then manipulated into sneaking prescription pills into the house so she could take them. He was fired when her dad Jamie found out."
Fernando started his £14-an-hour job working for Britney in February. He claims she made her first move on him while she was going through a rocky patch with ex-agent Jason, 38.
Fernando said it happened after he had escorted the mum of two to a hotel where she had been drinking with friends.
He added: "When we got back to her house in Calabasas she came to the door and called, 'Can you come here, sweetie?'
"I went inside and she asked me to help her remove some photos from her camera.
"She leaned over me and I noticed that her right breast was exposed. She looked me right in the eye like she was waiting for something. I felt like I was being set-up. Like it was a test.
"I got so nervous my hands started shaking. She grabbed the camera off me and said, 'Don't worry, I'll do it'."
Fernando said after this Britney was obsessed with him. He claimed he constantly rebuffed her advances but it did not put her off.
He said: "I was only supposed to work for her part-time, three days a week. But she started calling me in so much I could go weeks without a break.
"Britney and Jason were always breaking up and she seemed very lonely.
"Most days it was just her and her security team. And sometimes it would be just me and her in the house. When her and Jason were on a break-up it was hell."
Fernando said Britney often adopted bizarre fantasy personalities. He added: "One day she would be Britney. Another she would instruct everyone to call her The Queen B and she would walk around talking in a British accent.
"There was another character she would take on called Jennifer, who was a lot more mellow than her other personalities. In my first few days working for Britney she seemed OK. But by the end I was concerned for her."
Fernando also claimed Britney would lash out during temper tantrums. He said: "The other security guards told me there were often times when she would hit them or swing at them if she didn't get her way. There were times I was sure she was going to attack me.
"She was definitely under the influence of something, prescription meds, I don't know. But that scared me.
"Britney had a difficult relationship with Jason. I was told if she started hitting him, I had to restrain her until Jason had left."
Fernando rebuffed allegations that he is only suing Britney because he wants a big pay day.
He added: "People have labelled me a gold digger. But I have never sued anyone before and this has been very hard on me financially.
"I have struggled to find work since I lost my job. This has never been about money. I went out on a limb because I felt what happened to me is wrong and I had to do something about it."
He added: "If a famous man treated a female employee like this, people would be outraged."
Fernando said he also misses Britney's sons Sean Preston, four, and Jayden James, three. He added: "I was close to both kids. I had a strong bond with them."