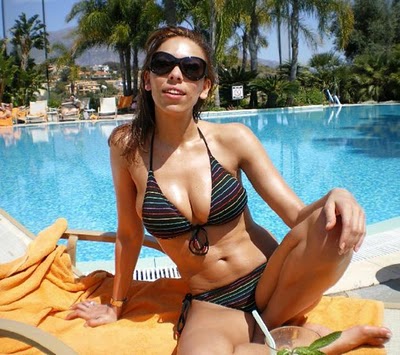 Arsene Wenger has a secret mistress who wants to be a fame wannabee WAG.
Sonia Tatar, who is a waitress and a part-time rapper, told Wenger to leave his wife and live with her in Paris.
Brunette Sonia, 39, has been pictured with several
famous players, including Patrick Vieira and Claude Makelele, amongst others. So it's quite clear that Sonia is obsessed with footballers…or at least with balls.
A close friend revealed that Sonia is getting sick and tired of the long distance relationship. They are both French and have loads of friends in Paris. Arsene is always in Paris working as a TV pundit.
Arsene Wengers' wife, former PE teacher Annie, 53, has been seen leaving their North London home looking flustered and upset.
The on-off relationship began around two years ago when they met at a Paris restaurant, where Sonia was the maitre d.
There was an instant attraction, and since then they've been meeting regularly in hotels all over Paris.
The affair only became when the couple were caught kissing outside a Paris hotel two weeks ago. Arsene is a tall bloke so he's going to find it difficult being inconspicuous.
Sonia has had a couple of hip-hop albums that have been released in France but made hardly any money out of them.
Arsenal are standing by their man who has managed the club since 1996 and is seen as the clubs anchorman.
The clubs statement said, "Arsenal Football Club considers the allegations concerning our manager Arsene Wenger strictly a private matter and we ask that the privacy of Arsene and his family be respected".
Wenger also made a statement, "This is a very serious matter. I do not intend to make any comment and wish to deal with the matter privately".