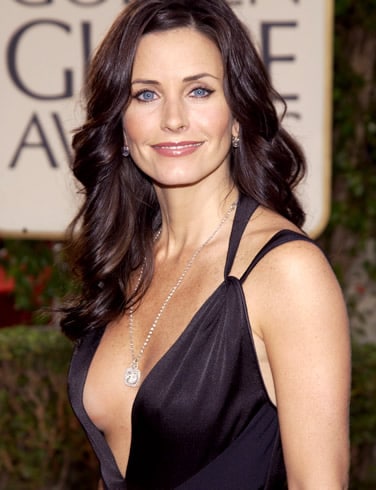 Courteney Cox has put her LA 'starter home' on the market.
The property – which the actress called home before finding fame on Friends – went up for sale less than a week ago and apparently it already has a serious potential buyer.
The status on the listing for the French Normandy property is 'pending' and its popularity will come as no surprise.
On the market for $1.549 million, the 3,832 square foot home is situated on 10,410 foot of land and has five spacious bedrooms.
The 47-year-old used to reside on Appian Way in Los Angeles' winding Canyons and as well as gaining four and a half bathrooms, two fireplaces, a library, dining room and heated swimming pool with cabana, the lucky new owner will also inherit some star history.
Singer Carole King once owned the home and the cover for her 1971 Tapestry album was shot in the living room.
With lush greenery on the exterior and high ceilings, inside the 1920s property appears to have a light and airy feel.
The space will be the perfect home for some budding star who can only hope to recreate the Cougar Town actress' career moves.
Alongside former co-star Jennifer Aniston, Cox is now living it up in a mansion on Carbon Beach in the affluent Malibu area.
On Tuesday Courteney was all smiles a she stepped out in West Hollywood to do a spot of shopping for her current home.
The brunette was on an interior design mission as she visited Plug Lighting & Design dressed casually in a blue jeans, a long sleeve black top, dark sunglasses and a thin scarf.
The star was clearly eager to set the right mood in her not-so-humble abode as she spent time considering the ideal lamps.
by Milo Johnson