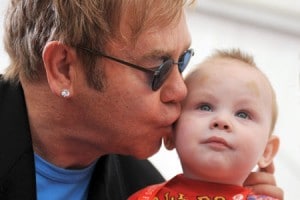 What possessed Elton John to flaunt his newborn son across the pages of OK! magazine?
This is the magazine where C-listers scrap to grab a bit of the limelight together with a big fat cheque.
So why did one of the worlds richest men, one of the most famous pop-stars in the world, need to parade the child (whose privacy you'd think he'd die to protect) across the pages of a shit magazine like OK! ?
Why would he want to appear alongside losers like Jordan and other parasites to share what, he says, is one of the most joyable experiences of his life?
And why expose a child, whose very existence will generate worldwide press attention for years to come, so early in life? And I don't care that he's giving the fees received for this interview to charity. Elton John can afford to, and does, give millions to charity without ever having to sell himself or his baby to magazines.
It was the wrong thing to do, and if he doesn't know that, then I'm not sure he should be a dad.
by Milo Johnson