A Beatle, a Rolling Stone and a comedian walk into a bar…
Yeah, stop us if you've heard  it before.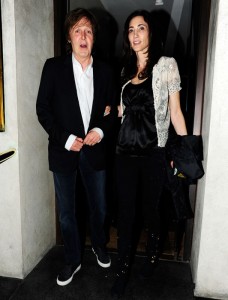 That was the case when Paul McCartney, Ronnie Wood and Ricky Gervais were all spotted dining out at a posh London restaurant.
All three took their partners along to the plush Murano restaurant in Mayfair.
Ronnie was there with his girlfriend Sally Humphrey, while fellow rock legend Sir Paul took his wife Nancy.
Comic Gervais was out with long term girlfriend Jane Fallon.
As a dinner party list, that takes some beating…unless you hate Ricky Gervais…then you'd beat him.
Either way, there'll be a beating of some kind.
by Lorelle Heath