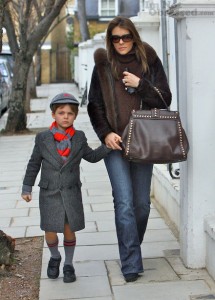 Her romance with Aussie cricketer star Shane Warne may be back on but there is only one leading man in Elizabeth Hurley's life.
The 45-year-old model and actress made time for her little man and stepped out on the red carpet with her son Damian at the premiere of Gnomeo and Juliet in Leicester Square.
But while Liz was spending some quality time with her son, the other man in her life couldn't help but try and catch her attention and Shane tweeted her throughout the film.
And while nine-year-old Damian was eager to see the new film and hurried Liz along as they made their way to the premiere, she admitted that she was just as enthusiastic.
Elizabeth tweeted, 'Just off to Gnomeo & Juliet. My son Damian totally over excited. Me too.'
The beachwear designer was looking ready for spring in a floral printed dress, while her little man looked sharp in a smart shirt, jacket and jeans combination.
Liz braved the cold with bare legs and no jacket and the mother-of-one showed off a golden tan, which was acquired during a jaunt to Los Angeles in late January.
The actress was spotted cosying up to cricketer Shane Warne and it appears she has given their romance a second innings following a cool-off period immediately after news of their relationship broke.
But while the model was enjoying time with her son, Shane made sure he wasn't far from her mind and took to Twitter to keep in contact in a very public way.
The sport pundit replied to her tweet and said: '@ElizabethHurley have a great time !! Hope you both enjoy the movie.. Popcorn or maltesers ? Is ping pong going to (sic) ? Lol'
Liz tweeted back to her man but was also focused on the film which she enjoyed and showed her support to her close friends Elton John and David Furnish, the producers of the film.
The Twitter-enthusiast told fans, 'We loved Gnomeo & Juliet! Fabulous movie with the best soundtrack ever. Well done to EJ and David. It was an 11 year labour of love.'
Emily Blunt also attended the premiere and appeared to have brought the L.A. weather home with her as she showed off her newly-lightened hair and a subtle golden tan.
The Young Victoria star, who lends her voice to the animated love story with a twist along with James McAvoy, worked the green carpet in a white long sleeved dress with a deep V-neck.
Despite the winter sunshine, it wasn't quite warm enough for her to go without heavy black stockings and black ankle boots.
The 27-year-old Brit posed for pictures and signed autographs for fans outside the Odeon cinema, but was missing her 'Gnomeo' James McAvoy.
Elton John and David Furnish also made the journey back to the UK for the premiere.
The Rocket Man singer has also written the soundtrack for the film, about the forbidden love of two garden gnomes.
The couple, who just welcomed a baby boy – had some support at the London screening from close pal Liz.
Ugly Betty actress Ashley Jenson, who also lends her voice to the film, attended in a heavily embellished black dress.